Manufactured by:
MTH
Cars produced: 160
Road numbers:
664 – 80 cars made
667 – 80 cars made


Product ID:

20-94631, 20-94632
Delivery to members: January 2023
Original MTH Artwork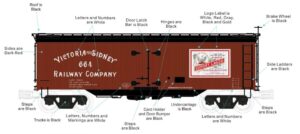 SOLD OUT from CTTA
Check your local hobby shop for availability
Cars may still be available to order at:
Kelly's Kaboose, Kamloops BC
Eastside Trains, Kirkland, WA
Jan 12, 2022
The Canadian Toy Train Association is pleased to announce that MTH is manufacturing a Victoria and Sidney Railway Company, Phoenix Brewing Export Lager Beer 36' woodsided reefer in their Premier line.
This very limited production "O" gauge car comes in TWO road numbers in 3 rail. Delivery to members is January 2023. MTH production car is shown here.
COST:
The Canadian Toy Train Association member cost is $ 85.00 CDN per car including shipping within the lower mainland and Vancouver Island.
US Member pricing is $55.00 USD + $12.00 shipping = $67.00 to the United States.
ABOUT the Premiere 36′ Woodsided Billboard reefer
The coming of the railroad changed the way America ate and drank. Before the iron horse connected every town of any importance to the outside world, most food was grown or produced locally. The arrival of cheap, fast, refrigerated transport – in the form of the woodsided reefer with ice bunkers at each end – enabled local brewers, diaries, meat processors, and other food businesses to become players on a national scale.
Until 1934, shippers could advertise their wares on leased billboard reefers, each a hand-painted traveling work of art. That year, the Interstate Commerce Commission outlawed the flamboyant paint schemes because the cars often hauled shipments from other companies – whose freight bills thus unfairly paid to advertise the lessee's products.
What doomed the billboard cars was truth in labeling. Depending on shipping needs, billboard cars often carried loads for customers other than the company named on the car sides. A beer company requesting an empty reefer for loading, for example, might find a cheese maker's delivered to its door. Shippers were not happy when their product was carried in a car bearing a large ad for someone else's product – they complained that their freight bill had in part paid for another company's advertising.
Responding to these complaints, the Interstate Commerce Commission in July 1934 mandated the phasing out of billboard reefers and ruled that thereafter, the lessee's name on a car could be no more than 12″ high. By law, all billboard reefers were removed from service by January, 1937, although many soldiered on in drabber paint schemes as late as the 1960s.