Manufactured by:
Atlas O 
Cars produced: 144
Road numbers:
386 – 72 cars made
393 – 72 cars made


Product ID:

3001281S-1, 3001281S-2 
Delivery to members: March 2023
Original Atlas O Artwork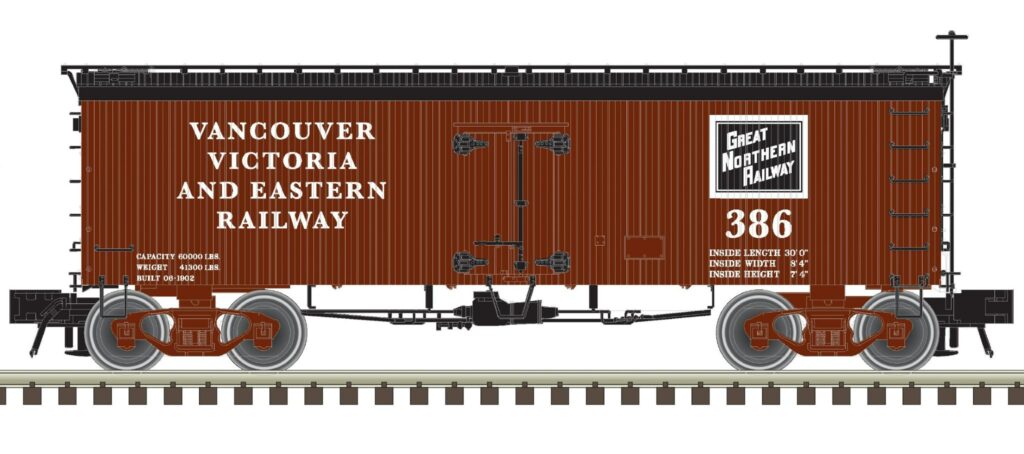 SOLD OUT from CTTA
Check your local hobby shop for availability
Cars may still be available to order at:
Kelly's Kaboose, Kamloops BC
Eastside Trains, Kirkland, WA
June 15, 2022:
The Canadian Toy Train Association is pleased to announce that Atlas O is manufacturing a Vancouver, Victoria and Eastern Railway, Great Northern Railway 36' Woodside reefer in their Master Line of products.
This very limited production "O" gauge car comes in TWO road numbers in 3 rail. Delivery is March 2023.
COST:
The Canadian Toy Train Association member cost is $ 85.00 CDN per car including shipping within the lower mainland and Vancouver Island.
US Member pricing is $70.00 USD + $12.00 shipping = $82.00 to the United States.
ABOUT the Atlas O Master 36′ Woodsided reefer
Based upon cars built by the General American Car Company for the Cudahy Packing Co. in 1925, the 36′ wood reefer is representative of the thousands of cars that transported meat, dairy, beer and food products well into the 1960's.
Features:
Accurate painting and lettering
Highly detailed ABS body
Separately-applied grab irons, ladders and stirrups
Hatch styles and truss rods appropriate per road name
Separately-applied door hardware
Opening hatches and doors
Die-cast chassis
Detailed braking system
40-ton Bettendorf-style die-cast sprung trucks
Die-cast articulated couplers (3-rail)
Minimum diameter curve (3-rail): O-31