Resources & other Links of Interest
Here you can find everything else! A variety of other resources for model railroading in O gauge and any other scale. Podcasts, a directory of over 17,000 rail related Web sites, the O Gauge railroading forum community, more. Got a suggestion for us ?
World's Greatest Hobby – Your Guide to the World of Model Trains.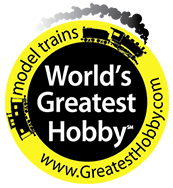 This is a great place to get started! World's Greatest Hobby, Inc. (WGH) is a non-profit educational program to promote the enjoyment and benefits of model railroading. We invite you to explore this site's resource links, download free content, watch our instructional videos, or visit us at one of our upcoming fun-for-the-family shows, the "World's Greatest Hobby On Tour."
Train collecting tips – what you should know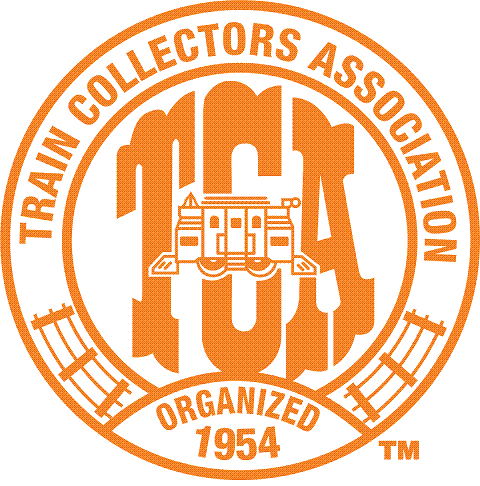 A great link from the The Train Collectors Association Western Division Web site, which also includes links to information on many of the best known and most obscure manufacturers.
How much is my Toy Train or Model Train worth?
The three things that contribute most to overall value of any model train are:
1) Operational condition – Does it run, work and operate as it did when it was new?
2) Cosmetic condition – Is the paint and finish damaged, are any parts damaged or missing?
3) Original box and packaging – Does the item still have the original box, packaging and any paper inserts?
The Train Collectors Association has defined Grading Standards to provide buyers, sellers, collectors and operators a consistent means to evaluate the condition, and therefore the relative value, of any Toy & Model Train. Those basic Grading Standards are:
C-10: Mint – Brand New: all original; unused and unblemished.
C-9: Factory new – Brand New: all original; unused; may evidence factory rubs and the slightest evidence of handling, shipping and having been test run at the factory.
C-8: Like New – Complete All Original: no rust, no missing parts; may show effects of being on display and/or age; may have been run.
C-7: Excellent – all original: minute scratches and paint nicks; no rust and no missing parts; no distortion of component parts.
C-6: Very Good – Minor scratches and paint nicks, minor spots of surface rust, free of dents. May have minor parts replaced.
C-5: Good – Sign of play wear: scratches and minor paint loss. Small dents, minor surface rust. Evidence of heavy use.
C-4: Fair – Scratched, moderate paint loss, dented, missing parts, surface rust. Evidence of heavy use.
C-3: Poor – Requires major body repair: Heavily scratched, major rust and missing parts. Restoration candidate.
C-2: Restoration Required
C-1: Junk – parts value only
The Full TCA Grading and Standards Guide, for Condition, Restorations, Paper and Operation is available here: 
http://tcamembers.org/standards/GradingStandards.pdf
Prices: $ – $$ – $$$
Prices for any Toy Train should be based on condition, and prices realized for rare items in Excellent to Mint condition may be much higher than those realized for Very Good or less condition. Prices and values for any Toy Train item may fluctuate according to availability, various market conditions, re-issues by manufacturers, and desire of individuals to acquire a specific piece. Some individuals or organizations may set high prices to realize highest possible return, over a longer time frame, others may take the approach to 'price to sell' quickly.
---
How To Pick The Right Model Train Set
An introduction to all the scales and starter set manufacturers
Getting started with model trains ? Ken Bianco Jr. from Trainworld in New York provides a great overview of the different model train set sizes and options available. (Note: Missing from Ken's description is the 1/64 scale 'S' gauge, which is smaller than O scale but larger than HO)
---
The Sprucecrafts Model Train Resource
Here you'll find everything you need to know about model trains. Learn about electric train sets, how to choose the right model train set, old-fashioned sets for kids and how to build model trains.
https://www.thesprucecrafts.com/steam-locomotive-classes-2382510
---
Tandem Associates – Lionel and American Flyer identification resource


Since 1996, Tandem Associates has been an online resource for Lionel and American Flyer electric train collectors and operators. Featuring great Lionel toy train screen savers, along with Plasticville kits & parts, we also offer extensive informational resources on these trains, including books, videos, DVDs, and links to other toy train sites.
---
Model Railroader – Basic Training 

Model Railroader – Video Plus series. This great set of free videos is the perfect place to get started learning about O gauge trains and the tracks they run on!
Episode 1 is all about sorting out 'scale' and gauge'. Episode 2 is all about track.
---
Explore model railroad construction and layout options
Here's another great collection of links to articles, magazine and PDFs regarding all aspects of model railroad construction. https://www.titlemax.com/model-railroads-and-freight-cars/
---
MTH locomotive traction tire replacement guide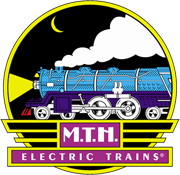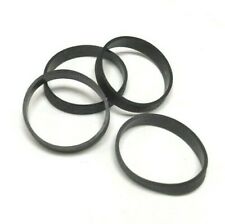 Here's exactly what you need to determine which traction tire you need to replace those on your MTH locomotive. Click here to check out the guide ! 
---
Electrical Safety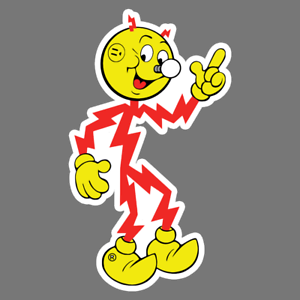 Getting ready to build a layout, renovate a train room or wire up some power circuits ? Check out these great links to the HomeAdvisor articles first. Thanks to Tom Greene for this one.
Electrical Safety. 
Electrical safety is an important part of responsible home ownership. Be safe when enjoying your model trains.
Residential Electrical Circuits Explained.
If you want to give it a shot yourself before contacting a pro, there are a couple things you should know.
---
Protecting your Trains, Planes and Automobiles
Here's a compilation of great links and resources from various sources to help us care for, clean and protect our models. Specific links and tips for model railroads, model cars and model aircraft that we all like to use to enhance the visual appeal of our train layouts.
http://www.carcovers.com/resources/protect-your-model-cars-trains-planes.html
---
Fun with your Model Railroad – Popular Mechanics Press 1949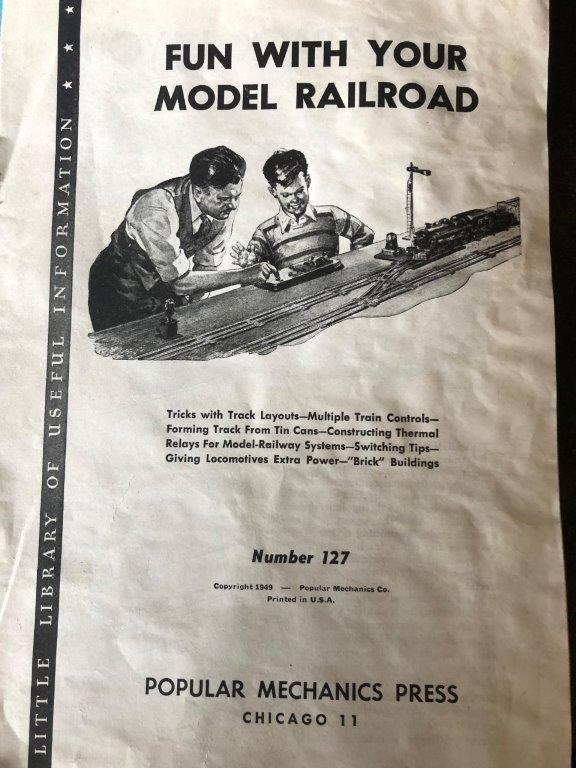 Thanks to member Martin Howbold for this great item, a gem jam packed full of great information still useful and relevant today!
Originally published in 1949 by Popular Mechanics Press Little Library of Useful Information, Number 127. This illustrated 'Postwar' reference features: Tricks with Track Layouts, Multiple Train Controls, forming Track from Tin Cans, Constructing Thermal Relays, Switching Tips, Giving Locomotives Extra Power, Rerailing Tongs and more!
Toy Trains of Yesteryear – The Trains of Lionel's Standard Gauge Era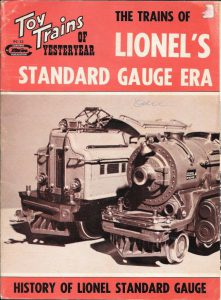 Thanks to member Martin Howbold for this wonderful Carstens Publication from 1964, detailing the history and offerings of Lionel Standard Gauge in the early 1900's. The entire 36 page original is reproduced here in 7 parts.
Part 1 – view or download: Introduction, early Lionel trolleys, early steam locomotives.
Part 2 – view or download: Lionel Classic Period steam type locos, Early Period electric type locomotives.
Part 3 – view or download: Lionel Classic Period electric locomotives, 10 Series freight cars.
Part 4 – view or download: 200 Series freight cars, 100 Series freight cars, 500 Series freight cars.
Part 5 – view or download: Lionel small early series passenger cars, Ives cars, large passenger cars.
Part 6 – view or download: Classic Period passenger cars, large passenger cars.
Part 7 – view or download: Standard gauge accessories, back cover.
---
Steam locomotive classification by wheel arrangement – Whyte Notation
What kind of steam locomotive is that? Find out here!
https://www.rmirailworks.com/whyte-classification-of-locomotives.asp#
---
Surviving steam locomotives in Canada (and around the world).
Are you trying to locate an existing steam locomotive, in Canada? North America, the world? The Surviving Steam Locomotive Database would be a good place to begin your search. The Surviving Steam Locomotive Database can be navigated by state, class, wheel arrangement, railroad, gauge, or locomotive builder.
---
Toronto Railway Historical Association
Railroad enthusiasts will probably be familiar with the Budd Rail Diesel Car (RDC) as they were some of the most widely used examples of self-propelled cars throughout North America between the 1950's and 1980's. However, there were lesser-known earlier examples of self-propelled cars, some of which were unique to Canadian railroads.
---
Canadian National Magazine announcing 'The Super Continental Hits the Road'.
Complete with schedule. Thanks Clark Gray for this great feature.
---

Canadian Pacific Railway was formed to physically unite Canada and Canadians from coast to coast. A lot can happen over 13 decades. Apart from obvious historical and technological developments, one of the most visible changes that occurs in a company is the evolution of its logo. Canadian Pacific showcases the evolution of its iconic brand here on its 'Connecting Canada' Web site pages.
---
Railroads: A Long And Storied History Of America By Rail
A great Web site with great pictures. Journey back in time to experience what our great nation's railroads once were, where they operated, the high quality passenger trains they once possessed, and the classic equipment they utilized.  The American railroads were once the crown jewel of the world with passenger trains capable of speeds in excess of 100 mph via four-track main lines, terminating at fabulous stations while long, heavy freights moved everything from merchandise to coal in powering the country's mighty industrial complex.
---
Thanks to K-8 librarian LouAnne Taylor and student Meg from Wyoming for finding this one for us. This page contains a brief history of these popular, urban expanding modes of transportation, as well as links to many trolley and streetcar museums.
---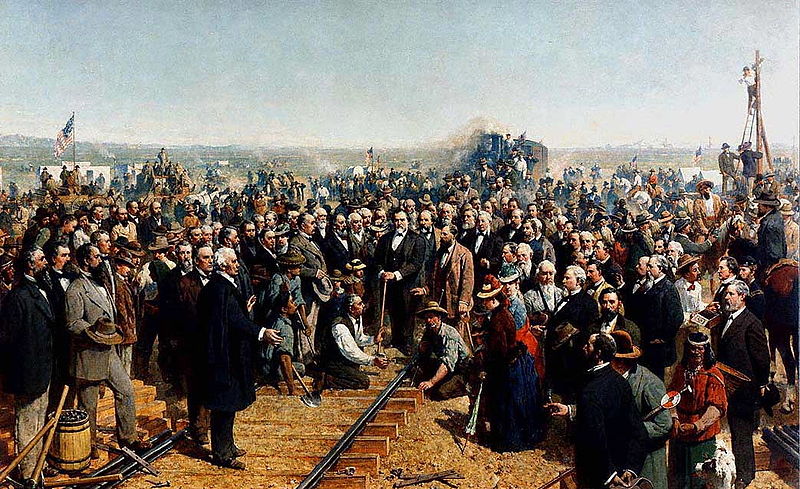 The answer might surprise you.
Thanks to Tutor Lily Winthrop and her student 'The Amazing Ethan' who found our resources page very helpful for a project. They found and forwarded us this great reference page, which has a lot more great info on many aspects of the construction of our Railways.
---
Thanks to Skyler Marcellino of New York for this interesting feature of the trains and subways of America's biggest city.
---
Model Railroad Academy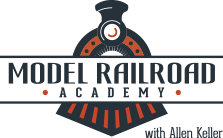 The destination for the most extensive collection of model railroad how-to videos, techniques, insight and inspiration. Your guide is Allen Keller — master model railroad builder and industry pioneer. Begin your adventure today!
---
Notch 6 – Podcast and Web site dedicated to O Gauge Trains

Thanks to CTTA Member Tom Modica for finding this one! Notch 6 is the first and only Podcast (online radio) show dedicated to the world of O gauge trains. Since launching in 2013 this monthly show has covered breaking news and featured in depth interviews with many of the leading authorities in the O gauge market. Previous guests have included Richard Kughn, Mike Wolf, Howard Hitchcock, Richard Maddox, Bruce Greenberg, Michael Broggie, and others.
---
Lionel Steam Locomotive & Tender matching guide.
Match up those Lionel steam engines and tenders with this handy guide. Thanks to the members of the O Gauge Railroading Form, we're happy to publish a Prewar and Postwar reference. Use the links here to find the proper tender for your locomotive. Or the proper locomotive for that tender!
Lionel Prewar Engine & Tender Guide Part 1 – Locomotive numbers 201 – 1684
Lionel Prewar Engine & Tender Guide Part 2 – Locomotive numbers 225 – 1684
Download complete spreadsheet
Lionel Postwar Engine & Tender Guide Part 1 – Locomotive numbers 221 – 671
Lionel Postwar Engine & Tender Guide Part 2 – Locomotive numbers 675 – 1872
Lionel Postwar Engine & Tender Guide Part 3 – Locomotive numbers 1882 – 6110
Download complete spreadsheet
From the TCA book : Lionel Trains 'Standard of the World' 1900 ~ 1943, pages 110, 111, & 112.
---
Removing paint from model trains
If you've ever considered trying to repaint and salvage an old train car that's damaged or worn beyond the point of rehabilitation, here's a few resources that might help you restore and repaint an old train and bring it back to its former glory and fine finish. It goes without saying that you should proceed carefully, have good ventilation when using chemicals, and have proper protective clothing and clean up materials ready before you start your project.
Here are 6 options for stripping paint from model trains:
https://dfarq.homeip.net/options-for-removing-paint-from-model-trains/
And a few more links to other helpful information:
How to remove paint from Lionel postwar cast steam locomotives:
https://www.youtube.com/watch?v=HugPHoRB2Pk
O Gauge RailRoading Forum:
https://ogrforum.ogaugerr.com/topic/what-to-use-to-strip-paint-off-a-model
---
Charles Cooper's Railway Pages – Toy Train Track museum and exhibit

A fascinating display of toy train sectional track from the earliest 2 and 3 rail tinplate track.  It is devoted to a representative display of toy train and model railway track as it has evolved and diversified from over 100 years ago. It has been designed to include all gauges from Standard Gauge/Gauge 2 all the way through N to T. It includes all major manufacturers and a selection of secondary ones, and a cross-section of all types of trackwork and track formations produced over the years.
And there's lots more! Charles' site is full of great information and and historical research on CN, CP, Ontario railways and MANY other aspects of the model railroading hobby and prototypical railway operations. Check it the entire site here:  http://www.railwaypages.com/home
---
The Internet Railroad Directory – Guide to 17,000 Rail Related Websites:

---
O Gauge Railroading Magazine online forum: 
The OGR On-Line Forum is one the largest and busiest O Gauge discussion group Web sites on the Internet, with over 5 million pages served every month! A great source for 2-rail and 3-rail modeling.