Vancouver Modular Layout
Our CTTA 'mainland layout' is comprised  of 16 modules. It is transported in a custom built and decorated Caboose style trailer. The original layout, when fully  assembled, measured 24′ x 16′ (384 sq ft).
Appearing for the first time at the CN family Day at Thornton Yard in September 13, 2015 the layout was expanded, with the addition of one 4′ module on all for sides. The expanded layout is 40% larger and now measures 28′ x 20′ (560 sq ft), featuring 5 concentric loops of track. There are 3 loops of 'O' Gauge track, 1 Standard Gauge loop and one 'S' gauge loop.
A group of members, led by Modular Layout Engineers Neil Wilson, Neil Whitehead and Diesel Electrician Gary Zabenskie can usually assemble and wire the layout in about 90 minutes. We usually run a Thomas The Tank Engine train on the outermost loop to engage the younger operators. The Thomas line also features a variety of accessories around the layout that can be activated by push button.
The other loops are filled with trains brought by members to run on the layout at various events and train shows.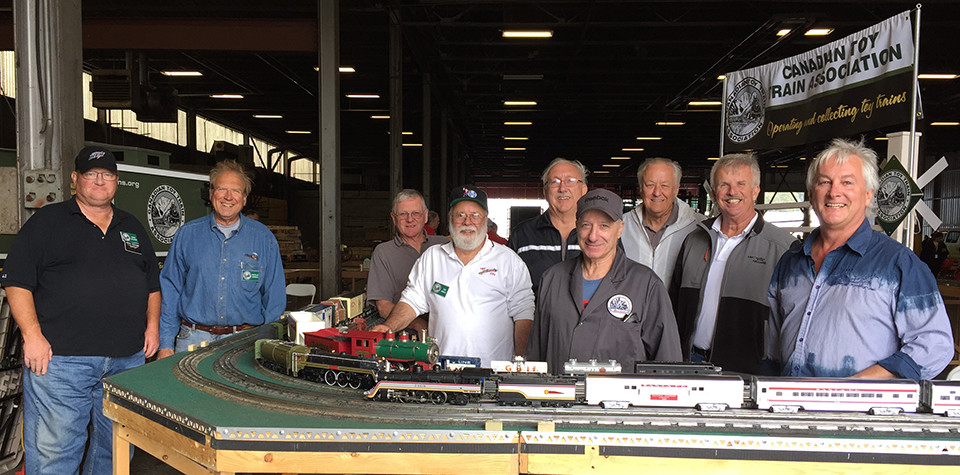 The operating group engineers pause and smile during CN Family Day open house at Thornton Yard in Surrey, September 2015. L-R: Howie, Martin, Neil, Tom, Frank, Gary, Peter, Mark, Kyle.
Vancouver Island Layouts
The CTTA 'Island Group' maintains two layouts. The primary 'big boys' layout is a triple-loop dog-bone configuration, measuring approximately 24′ long and 8′ wide at the ends. Large LGB trains run on the outside. Two inner loops of Lionel O-Gauge tubular track provide lots of room for long trains and smooth running. The layout features a point-to-point trolley line, where various trolley cars or speedy vehicles run between the bumpers. This layout features a variety of vintage plastic building kits, alongside many modern MTH operating accessory building kits such as the service station, a McDonald's restaurant, a 50's diner, a giant Ferris wheel and  Merry-go-round. Flashing lights and crossing signals add to the enjoyment and visual appeal.
Members enjoy the opportunity to run a full range of model trains, from classic tinplate streamliners, toy-like vintage 0-27 locomotives and rolling stock, to the most modern scale model trains available today, with full sound systems and digital command control.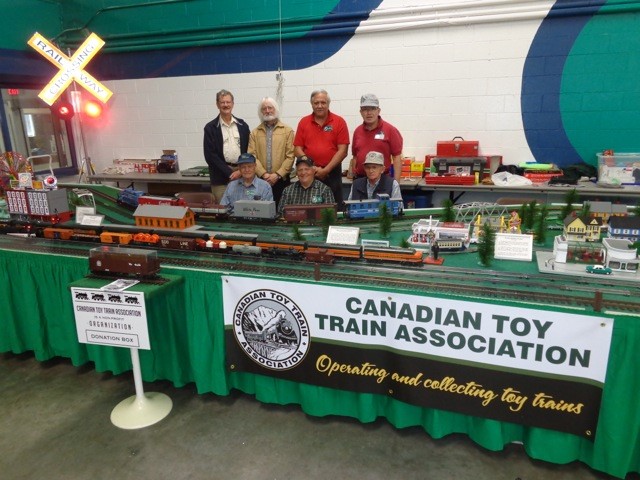 CTTA Island Group at the Esquimalt Sports Centre for Buccaneer Days, 2013 (back row) Gary, Ken, Dick, Don, (front) Bill, Freddie and George.
A layout for kids
The second layout is designed with the younger operators in mind, with a track plan and running configuration that is true to the original traditions of 3-rail O-gauge trains. With an emphasis on letting the trains run with a foolproof track plan and lots of play value, the 'kids' layout features two loops of track on a 4′ x 8′ base. The outside track is an expanded oval. The inside track is a classic figure-8 with a 90-degree crossover.
Rugged 0-27 trains run on traditional Lionel tubular 3-rail track, through scenic tunnels, past Plasticville buildings and various accessories. An assortment of cars, airplanes and other toys complements the running trains.
Young Engineers can get behind the throttle of the two locomotives, which are set so that they will always run forward at a controlled maximum speed without any danger of leaving the rails. We have the track wires attached to the 'BU' transformer posts, limiting the speed. The locomotives we use will not run so fast that we are constantly telling the children to slow down the trains! Lots of children love driving the trains and on busy days there is always a lineup of 4 or 5 kids waiting their turn at each control.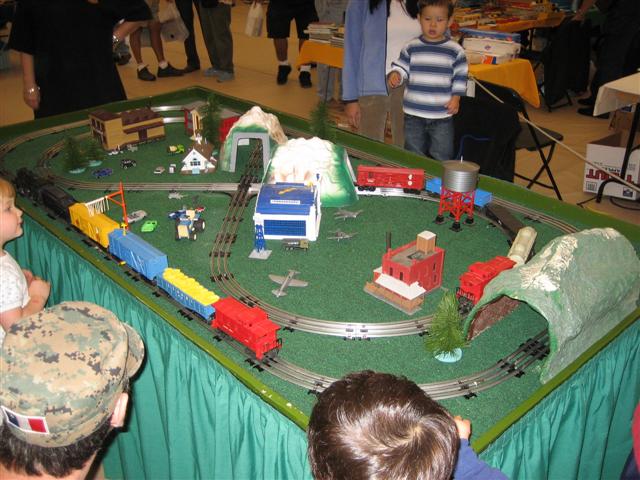 The kids' layout is seeing lots of action