A brief history of toy trains for Canada
By Charles Reif, CTTA, TCA, with an addendum by Robin Dodson, CTTA
Originally published 2001 in the Canadian Flyer
---
The first toy trains that actually represented Canadian Railways appear to date back only to the mid-teens of the 20th Century. At that time, American Flyer produced passenger cars for the "Imperial Limited Line" (the Imperial Limited was a Canadian Pacific transcontinental train of the time), either with or without "C.P.R." printed under the windows.
Competition for the Canadian market really picked up when Hafner began producing its "Canadian Flyer" line of mechanical trains, which took centre stage in the Eaton's Department Store catalogue of 1921-22. American Flyer retaliated with its "Dominion Flyer" sets (with either Canadian Pacific or Canadian National subscripts) which entered the Eaton's catalogue in 1923-24 with a small electric set, and by 1924-25 had replaced Hafner's mechanical sets with its own.
German toy train makers had been competing with American manufacturers since the late 19th Century, and Bing brought this competition to bear in the Canadian market in 1925, beating out Dominion Flyer for the mechanical sets at Eaton's with its own low end Canadian Pacific sets. Unlike American Flyer and Hafner, however, Bing would produce larger sets similar to its American range, with 8" passenger cars and even a 1 Gauge set converted to 0 gauge, all in Canadian Pacific livery or markings. Later the firm of Karl Bub made a small windup set for Canada with Canadian National markings.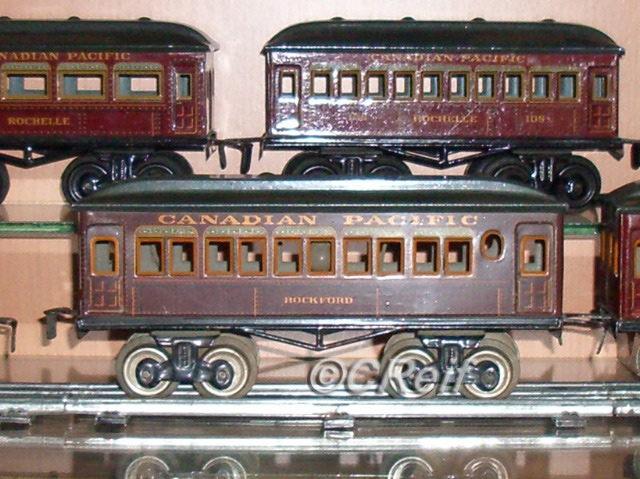 American firms such as Flyer and Ives each made versions of a Canadian Pacific boxcar, and Bing made boxcars and cabooses in two sizes also marked Canadian Pacific. And Marx came out with its own streamlined CP passenger sets in the late 30's, and freight train variations before and after WWII.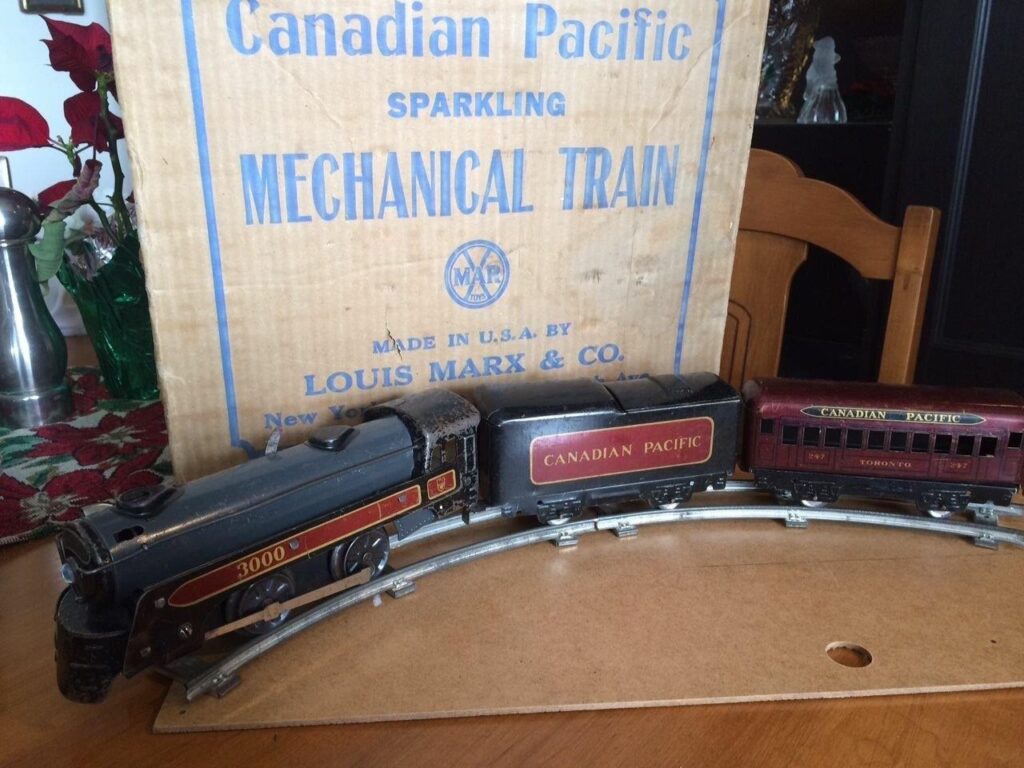 From Britain, the famous scale model maker Bassett-Lowke had offered nearly custom models of Canadian Pacific 4-6-2 steam engines and passenger coaches in the teens, twenties and thirties. These were very high end items, and probably few were made. Hornby painted up sets of its No3 4-4-2's for Canadian Pacific in black, with matching maroon-painted coaches, around 1930. Very few of these sets exist, so one might believe they were promotional models for a line that was too expensive for the depression years. After WWII, Hornby returned to the Canadian market with one set of streamlined mechanical trains repainted for the CPR. In reality Hornby sold mostly British trains in Canada, and the American makers for the most part sold their regular lines in Canada. Canadian-named sets were always a special case.
In the early 50's, Canadian-named sets appeared from Germany's Distler and Japan's Sakai. Eventually, in 1957, Lionel came out with its famous 2373 Canadian Pacific diesel passenger set. Canadian roads didn't really become popular in the age of plastic until the MPC years.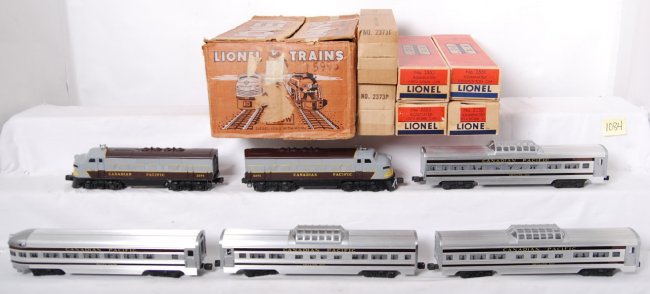 View some of these special toy trains on our Tinplate Gallery page and our Members pics and picks page.
Charles Reif, CTTA Secretary
---
Addendum by Robin Dodson, CTTA
I would like to suggest one more reference – the Hornby Dublo die cast and tinplate CPR passenger and freight sets of the early 1950's.
These were made exclusively for the Canadian market and thus are among the most valuable Hornby Dublo sets today. The 1215 locomotive was actually a repainted "Duchess of Atholl" Pacific locomotive with a cowcatcher replacing the buffers at the front end. The tender was also a repainted Atholl tender, but the manufacturer failed to replace the six wheels with eight, making it a subject of some derision in Canada.
The passenger set came with two "blood and custard" British Rail Midland Region First/Third and Brake/Third carriages. It also came with two similar LMS carriages which actually resembled more closely the CPR maroon colour scheme. The freight set came with two British goods cars – an LNER High Capacity Brick Wagon, and a British Rail Bogie Bolster wagon.
Finally, Hornby outdid themselves with a properly designed black CPR caboose, which was also offered as a separate item. Again, a very rare Hornby Dublo piece today.
-Robin Dodson, December 2014
Additional Articles of interest: