Manufactured by:
MTH
Road numbers:

#900 -39 locomotives made #902- 39 locomotives made
Product ID: 30-20921, 30-20922 Engines made: 78 Delivery to members: March 2022
Original MTH Artwork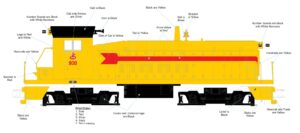 SOLD OUT from CTTA Check your local hobby shop for availability
Cars may still be available to order at: Kelly's Kaboose, Kamloops BC Central Hobbies, Vancouver, BC Eastside Trains, Kirkland, WA
March 20, 2021
The Canadian Toy Train Association announced that MTH is manufacturing a British Columbia Electric Railway SW-8 diesel engine unit. This very limited production "O" gauge scale engine is in the MTH RailKing Scale line and comes in two road numbers in 3 rail.
PRICE is $400.00 CDN (about $325.00 USD). As with our previous BCH diesel, we sell these at our cost, a great deal for the buyers.
This is our THIRD diesel engine,  and the 14th MTH product produced for our Canadian series.
These cars are a limited one-time run. Actual production model O gauge engine and MTH artwork shown.
About this SW-8 Model
EMD's 800-hp SW-8s and 1,200-hp SW-9s both debuted in 1950, marking the next stage in the evolution of one of railroading's longest-lived diesel families. The first SW-class engine, the 600-hp SW1, appeared in 1939, and the SW-units remained in the EMD catalog until the 1,000-hp SW-1000 was finally retired in 1986. With the "SW" in the name denoting that the engine was built for switching duties, it never needed the high horsepower ratings of road diesels. They could be paired with cab-less "calf" units in the classic cow and calf configuration if a particular job needed more power.
These boxy little workhorses returned to the M.T.H. RailKing lineup in 2017 in a new variety of road names. As with all RailKing diesel engines, each is available with the exciting Proto-Sound 3.0 system for unprecented value and fun. As switch locomotives, the SWs are perfect for yard duty thanks to their incredible slow-speed performance – performance governed by M.T.H.'s industry-leading Proto-Speed speed control system. No other switchers can creep so slow or uncouple cars from front or rear without additional equipment. If you've got a transformer with a whistle and bell button, you've got the best switcher you can buy today.
Pull-out fact:
While the SW-8s and -9s were produced as replacements for the aging NW-2 diesel switcher, they proved themselves impervious to age themselves, becoming railyard mainstays for decades.