Indian Hill Heritage Railway Train Travels 2019
By Frank L. Schmidt, March 2019
---
Great Britain controlled India for approximately 200 years, during which time it was known as this jewel of the British Empire. Various English military personnel and their families were stationed there to maintain the British rule and presence.
The Indian summer weather was unlike what was experienced back home, being much longer and hotter. To escape this 40+ C degree heat, the British military constructed three narrow gauge railways into the cooler hill country weather above the lower, hotter plains of India. The British residents of Delhi would normally travel to Simla in the north. The Calcutta British would travel to Darjeeling in the Himalayan Foothills of West Bengal, or Ooty in the Nilgiri Mountains of the south.
My wife Annie and I decided to travel to India and take these three exceptional rail journeys, on an escorted tour with twenty four other British train enthusiasts, involving two private chartered steam locomotive journeys.
Kalka to Simla 
The first of our heritage steam railway journeys was from Kalka to Simla (Shimla) in the foothills of the Himalayas.
We toured the workshop before boarding this 2 foot, 6 inch gauge train for the five hour journey. There were two heritage passenger cars with individual period armchairs, curtains and light fixtures. A washroom was included in each carriage. Quite impressive as to the higher ranks of British travel. This train was pulled by a diesel engine. Shimla – the spelling changed after Indian Independence – was the summer capital of British India with the Vice Regal Lodge and various military garrisons. This was the place to be for those of rank from May until October. The rail line was started in 1891 and was originally of 2 foot gauge. After one year of construction, the military decided it was too narrow for military transport and increased the gauge to 2 foot – 6 inches, allowing for heavier loads.
This rail line of 96 kilometres was entirely built with manual Indian labor, and is comprised of 103 tunnels, 988 bridges/viaducts and 917 curves. It was completed in 1903. The line travels from Kalka at 2159 ft. to Shimla at 6811 ft., a marvelous feat of railway construction. At first, wooden rail ties were used to support the track, but termites ate these out within 2 -4 years. Forged metal ties replaced these and became a standard tie for these narrow gauge lines.
The rail line uses hill spirals and viaducts to gain height along the route. Travelling on this railway was relaxed, with breathtaking views from each side of the carriage. There were three or four stops for photos and exercise.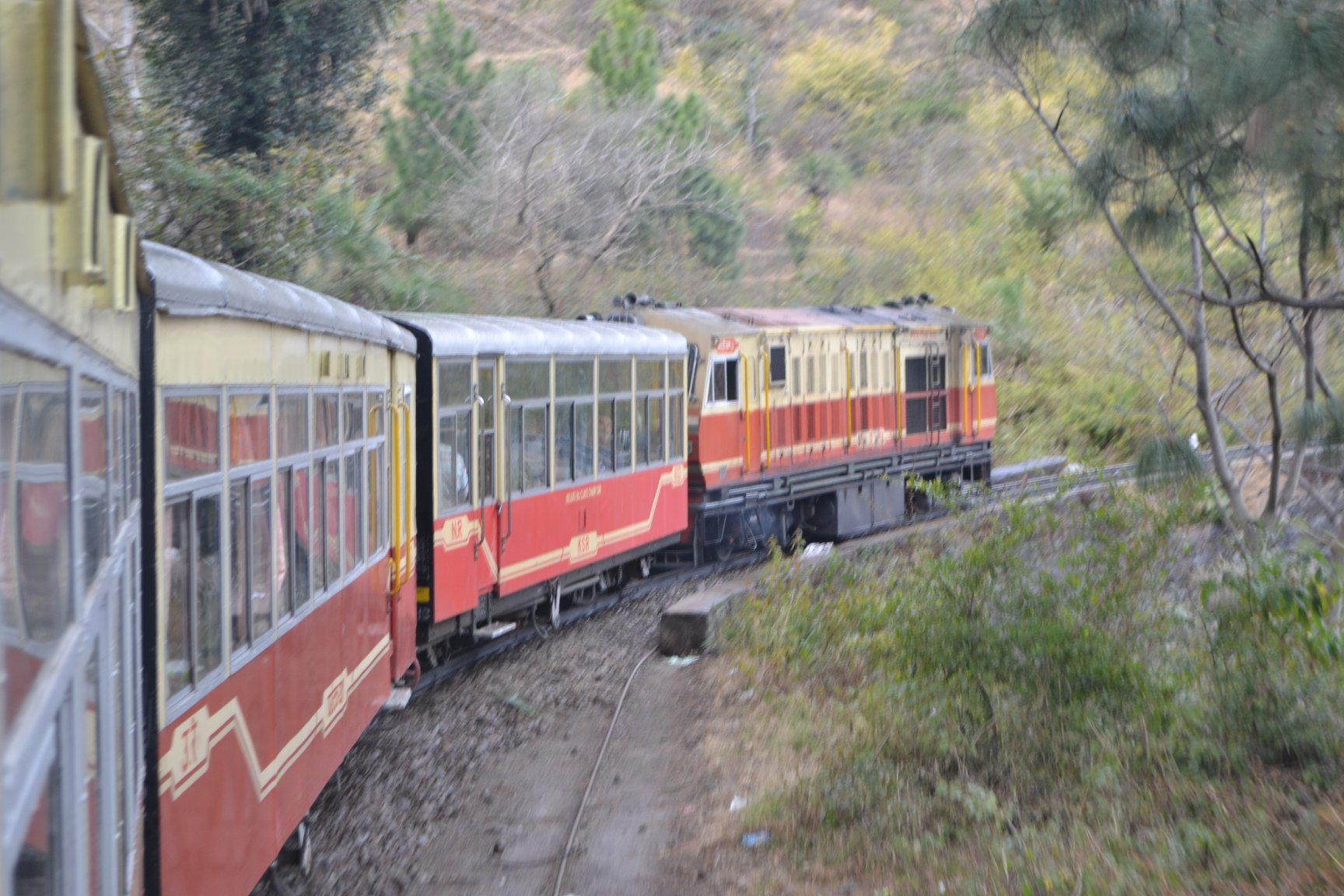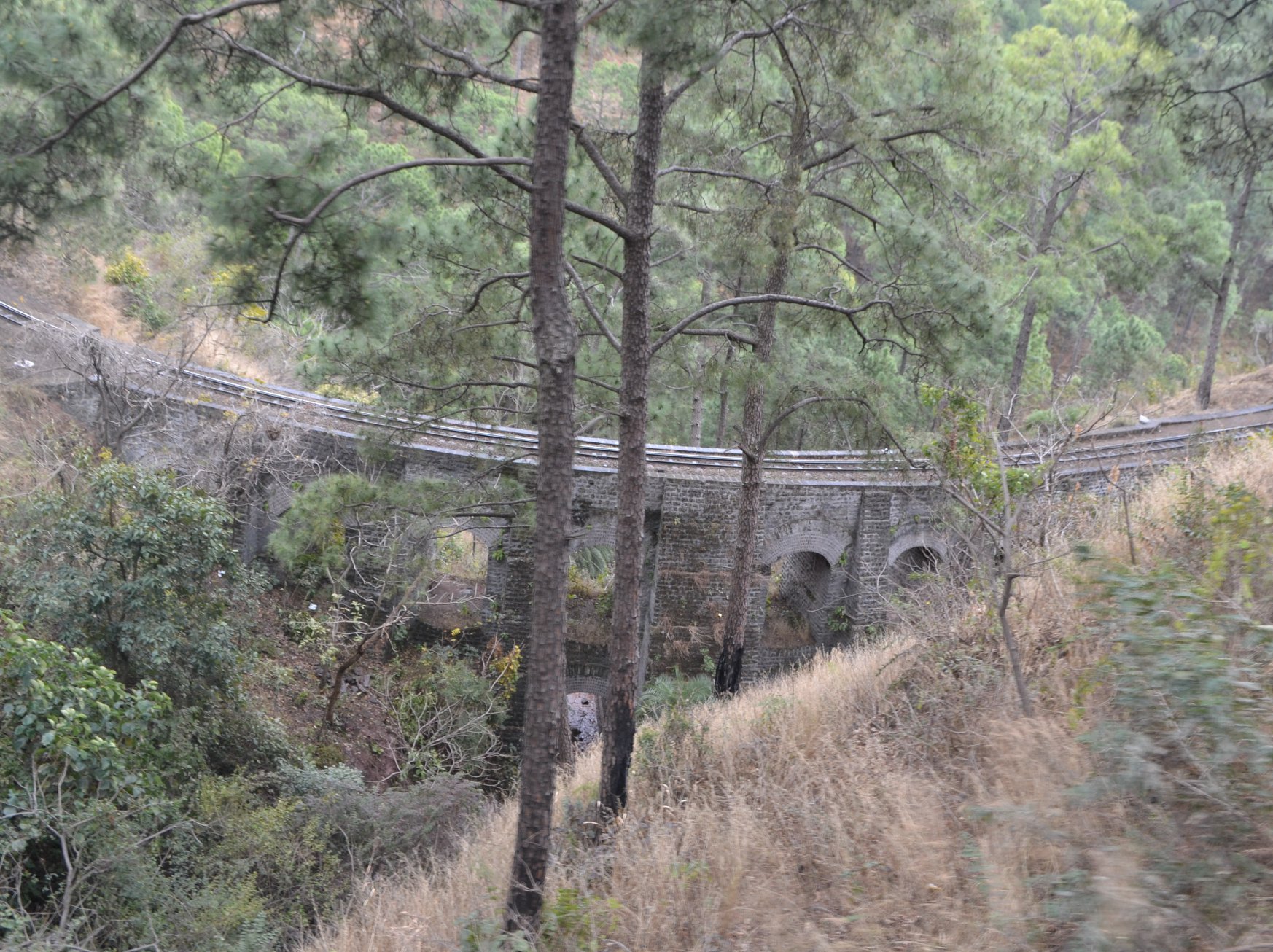 Shimla is a hill town founded in 1815 and today hosts many summer hotels and stores. A pedestrian shopping mall road allows for easy access and is dominated by Christ Church Cathedral, a very British institution. Remember, this is a hill town, so you are likely walking up and down a lot. The road access to Shimla is under heavy construction and when completed will reduce the travel time, but it may not be as adventurous for the rail traveller.
To Kathleghat
On our second day in Shimla, we had a private train ride pulled by a heritage steam locomotive. We travelled to Kathleghat using a 19 KC Class steam locomotive, KC 520. These original trains – locomotives and carriages – were British built and with maintenance are still in use today.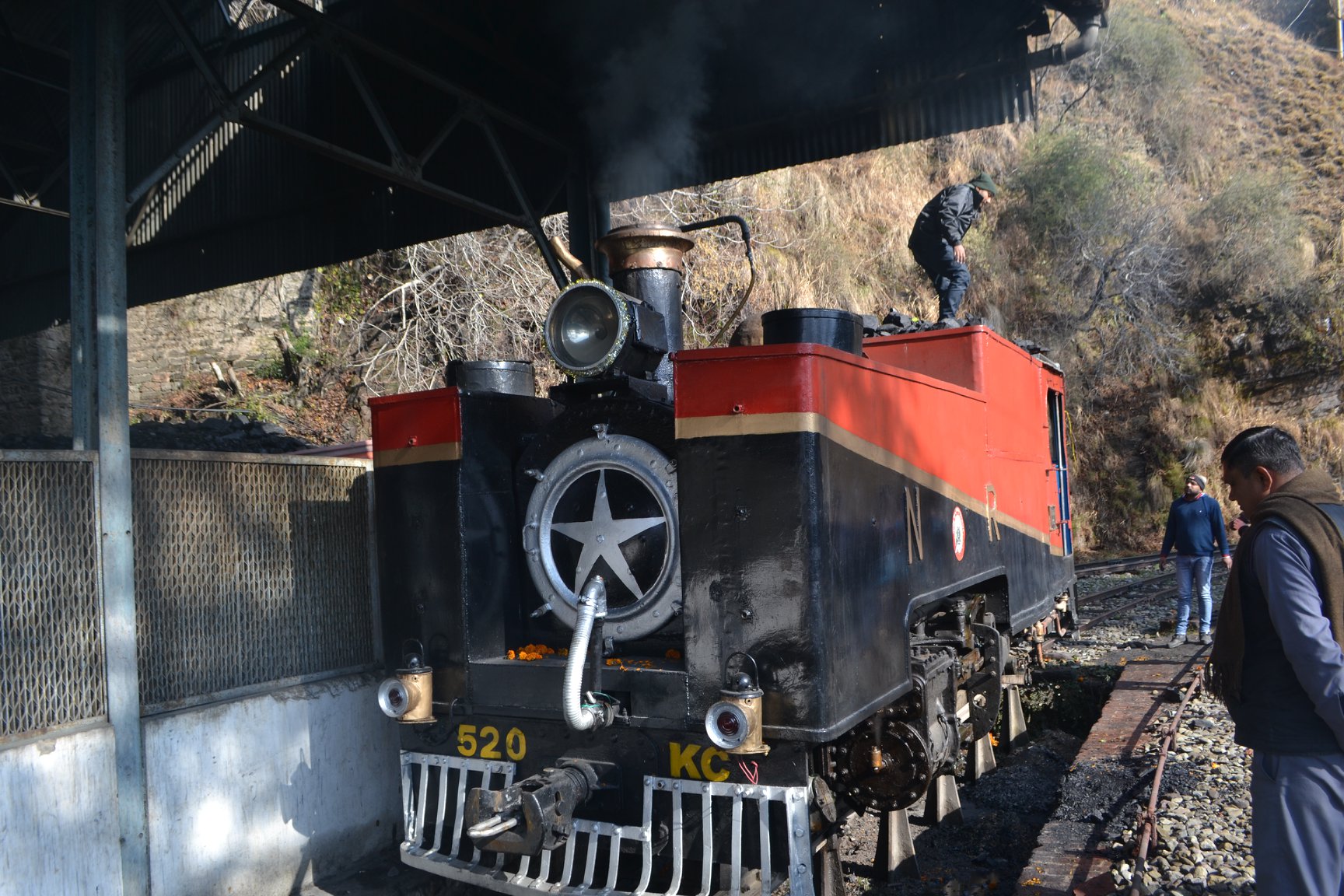 After three nights at our Colonial style hotel, we travelled back on the regular train, The 'Himalayan Queen', to Kalka. The trains do like to stop for food. This one did at Bagor where many enjoyed the samosas.
Toy Railway from Siliguri to Darjeeling
Our second heritage steam rail tour was from Siliguri to Darjeeling.
The DHR (Darjeeling Heritage Railway) was a two day, daylight travel only, on this line with an overnight stop in Kurseong. This railroad is of 2 ft. gauge and not maintained in as good operating condition as the other two heritage railways.
(A note about the 'toy railway' name. It was a nickname given to these smaller gauges in the 1970's and stuck around as the locals thought it 'cute'. These mountain railways were built using the smaller, slow trains on narrow gauge tracks to cross the hilly, mountainous terrain. The Indian standard railways use a track gauge of 5 ft 6 inch, which is quite a bit larger than the North America, UK or Europe of 4 ft 8 1/2 inches. Hence to locals, the small gauge looks like a toy railway. The Darjeeling actually incorporated it into their name while the others are spoken of as toy railways.)
We had a B-class 0-4-0 steam tank locomotive, No.782, coal fired, pulling three carriages on our chartered excursion. The locomotive had a small saddle tank water reservoir and ash pit requiring frequent water fills and ash removal. The Indian coal used here was very poor, giving a lot of ash and clinker. The locomotive coal arrangement was interesting, with a man riding in the bunker breaking lumps with a ballpeen hammer and sending the broken bits down the chute to the fireman.
In addition, two "sanders" were employed, one each side, front standing on a platform manually sprinkling sand on the rails for added traction on the wet rails. Brakemen were in each carriage to apply the brake wheel when stopped to prevent backward roll, interesting.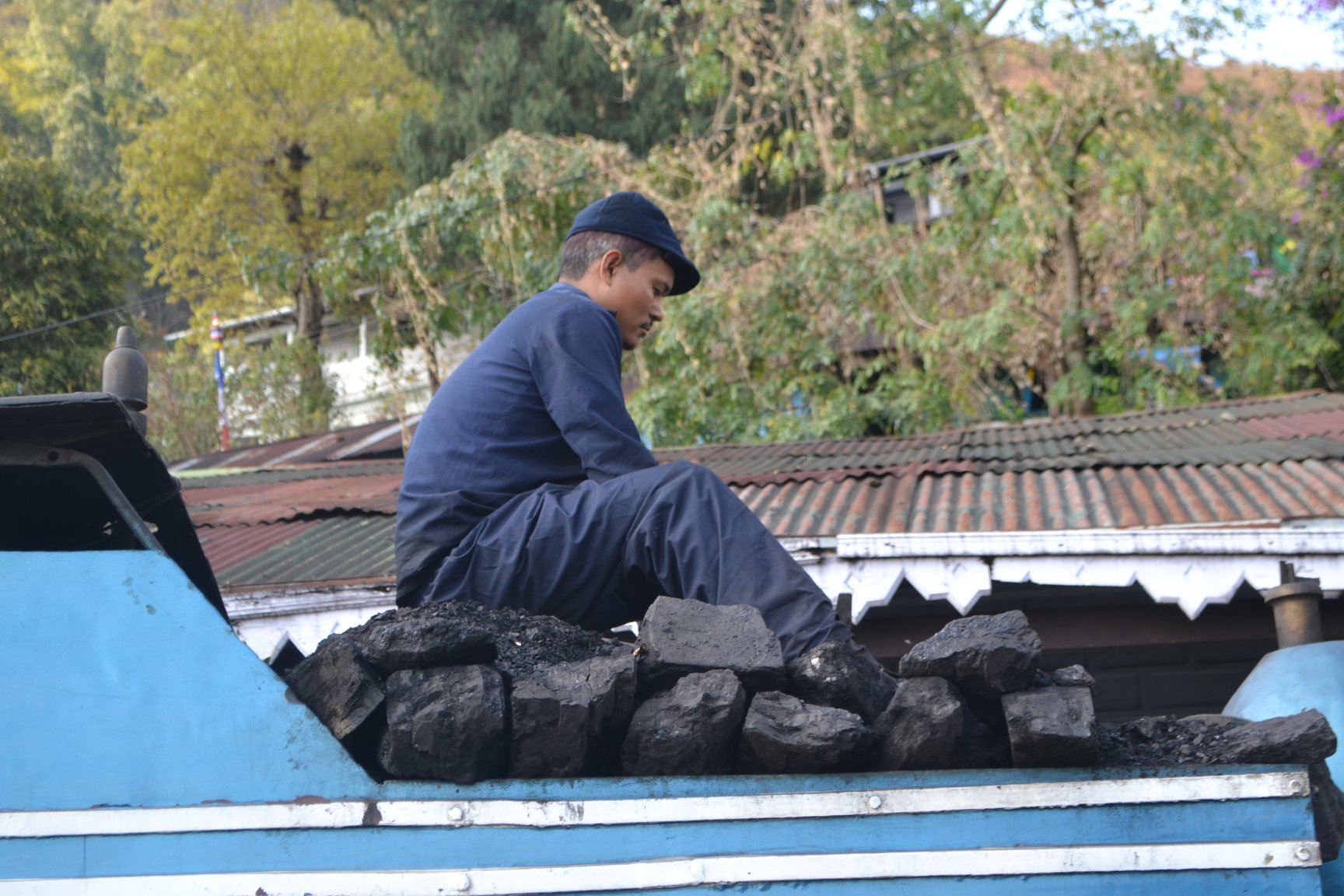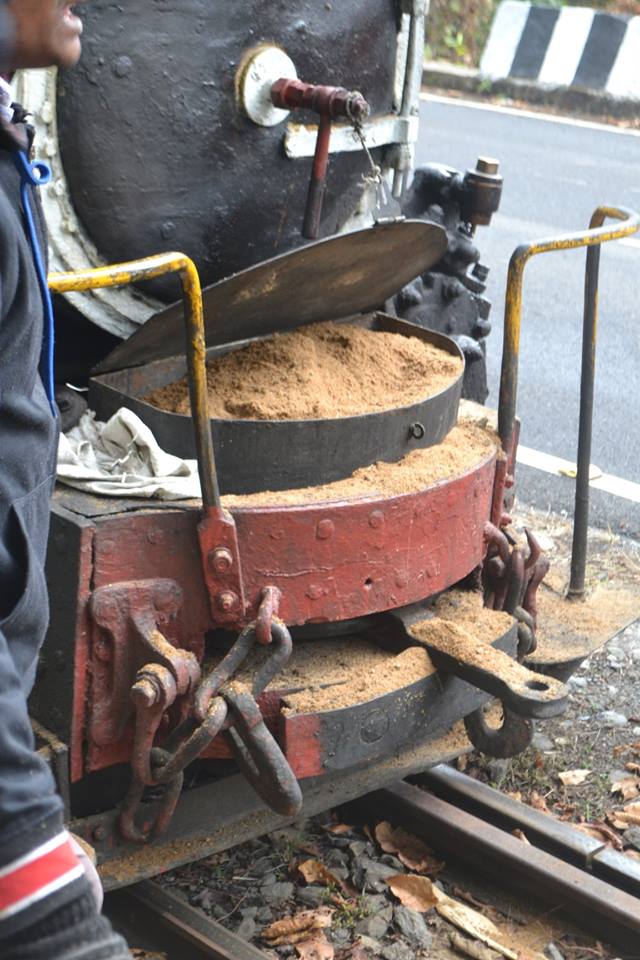 The Darjeeling Heritage Railway
The DHR journey covers approximately 200 kilometres over the two day journey, travelling extremely close to commercial shops, stores and houses through the villages encountered. Once the track was laid, "owners" moved shops to just outside the crunch line and have stayed there ever since.
One of the highlights of this train journey was a visit to the Tindharia Railway Works.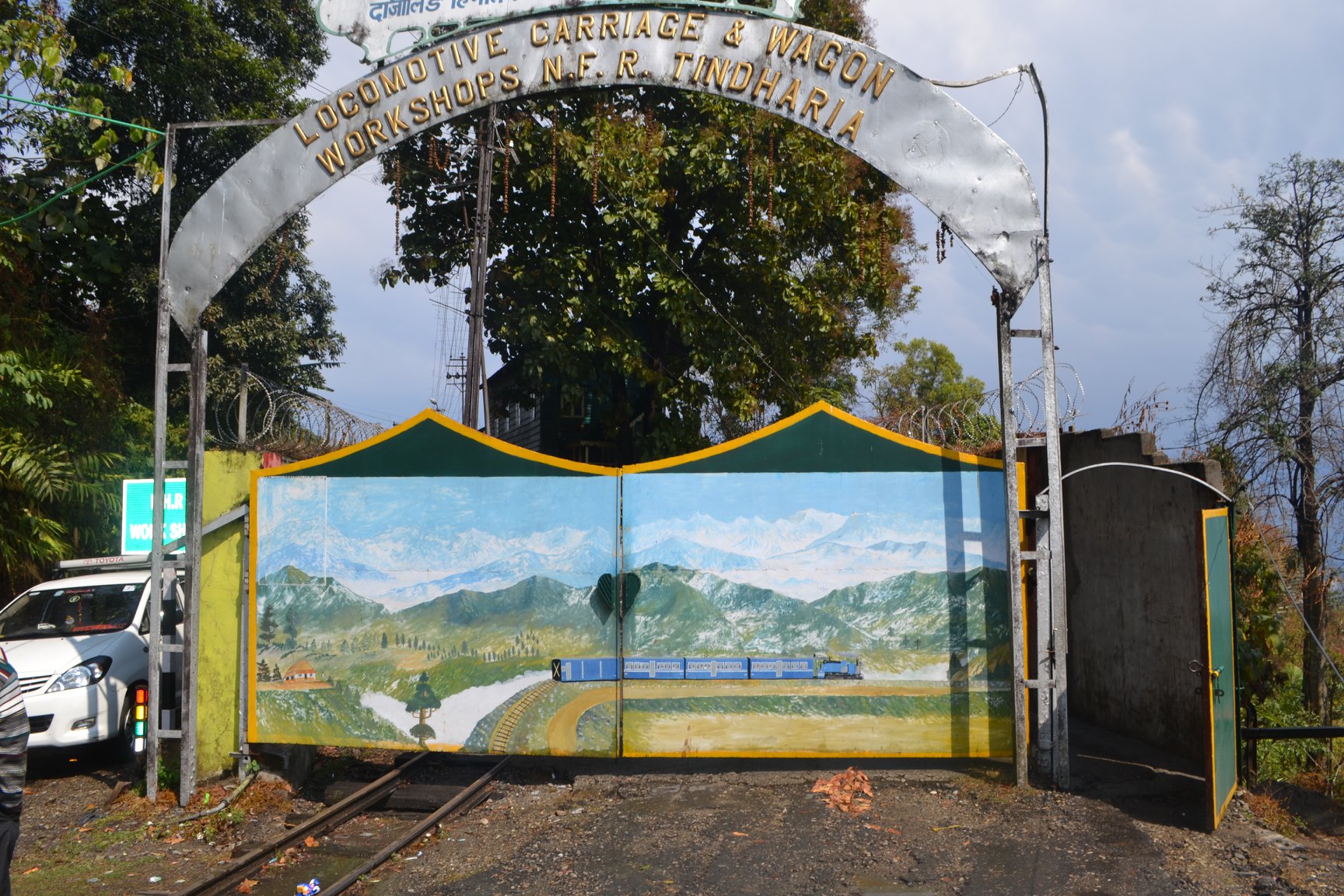 This Locomotive Carriage & Wagon Workshops facility does all of the steam locomotive repairs including full overhauling, boiler re-tubing of their B-class tank locomotive and the extensive rebuilding of the carriages. Many of the workers are 3rd and 4th generation TRW employees including many women skilled in this profession.
Kurseong to Darjeeling
We overnighted in Kurseong with our special steam train departing at noon. A visit to the local markets was made before departure. Our travel continued to Ghoom, the highest point of the line at 7211 ft., through the Batasia Reversing Loop and then travelling downhill to Darjeeling at 6800 ft., arriving at 5 pm. Darjeeling is also well known for its tea production, with a very flavourful tea named after it. This is a hill town, so walking up and down at this altitude was very tiring.
On a clear morning we viewed mount Kanchenjungen in the Himalayas, the third highest peak at 27,000 ft., in all its snow-capped splendor before the inevitable clouds moved in.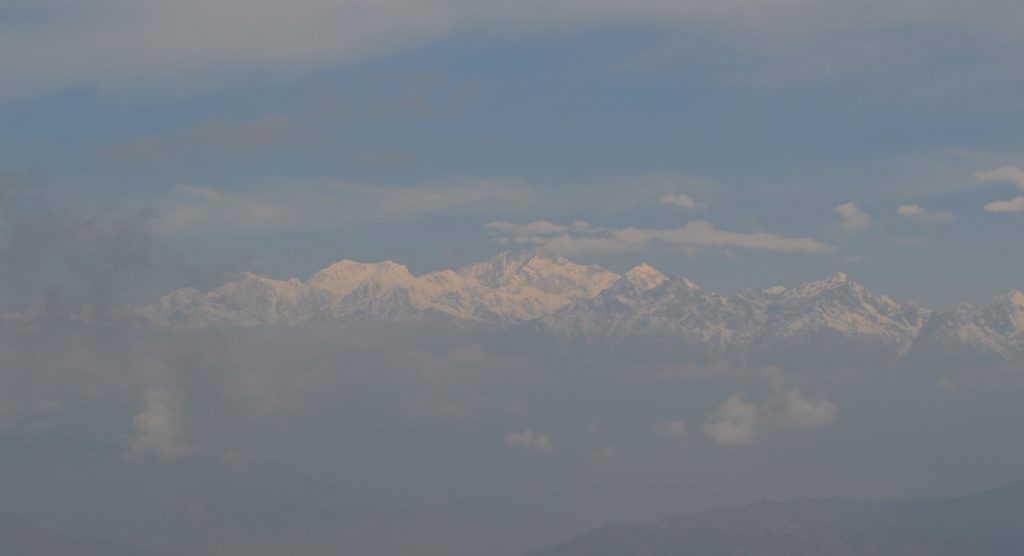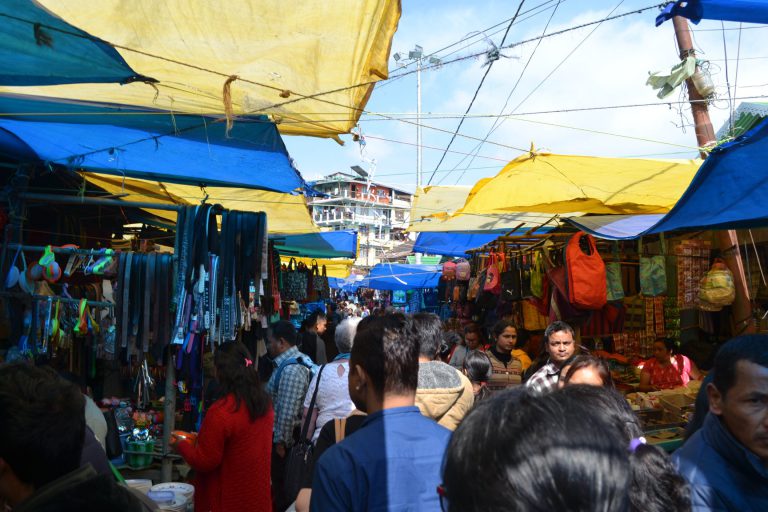 Kalimpong and the Teesta Valley
A day trip by private car to Kalimpong and the Teesta Valley was a great experience, travelling and stopping at various hill side tea plantations as well as plucking a few leaves (not in season). Having lunch was enjoyable overlooking the Himalayan foothills and the city beneath. A walk to the bazaar and meandering with the throng of shoppers along the streets offered insights into how the locals live and shop.
Airplane travel was required for the next stage of the journey to Coimbatore, the cleanest city in all of India. Coimbatore can also boast of having the most Tamil Temples, is a textile centre as well as an IT hub.
Mettupalayam to Ooty 
Our third and last of the narrow gauge heritage steam railway journeys started in Mettupalayam Junction about one hour coach ride from Coimbatore.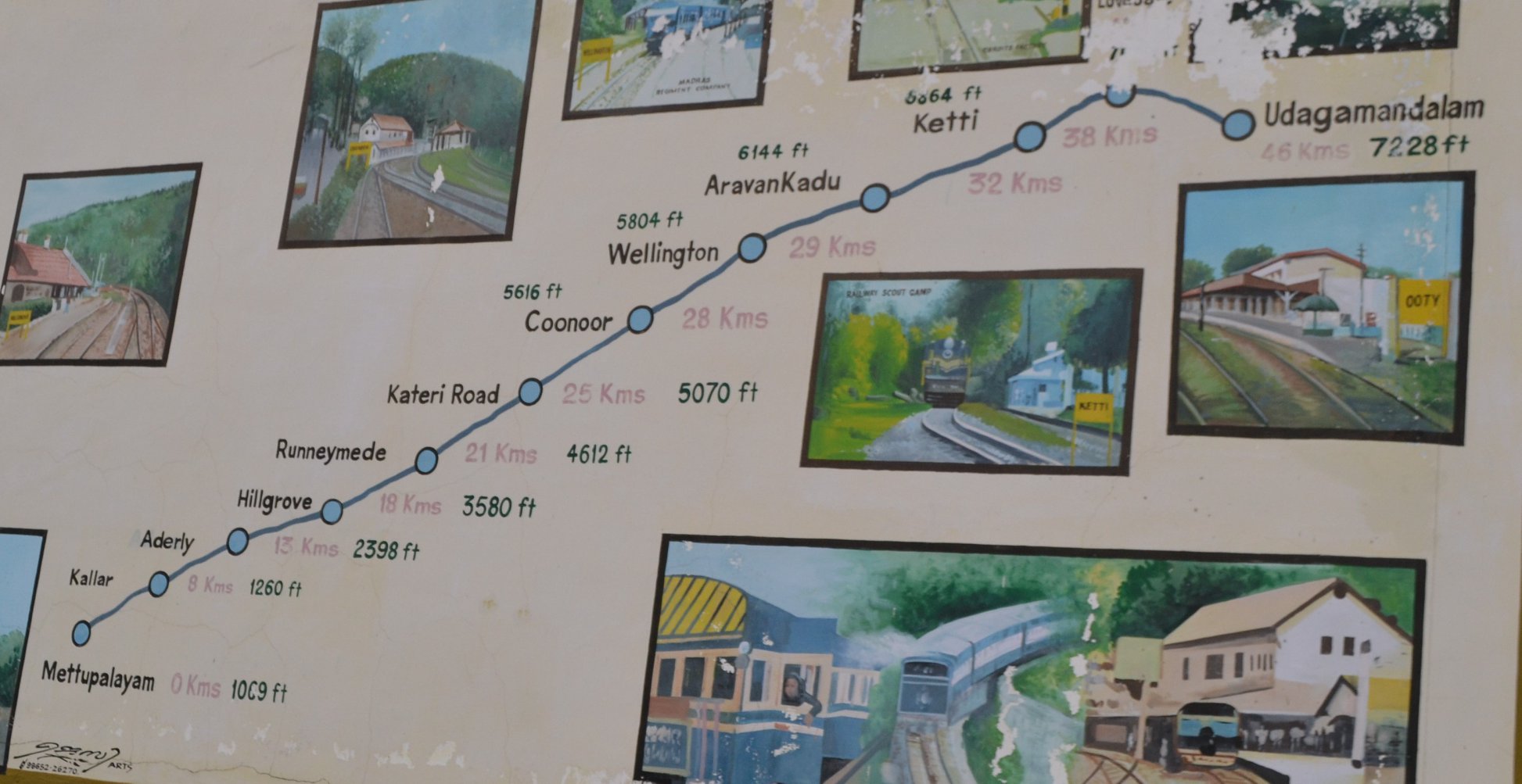 This rail line was built between 1891 and 1899 with a journey of 46 kilometers using 16 tunnels and 250 bridges. The train ride is loved by many in India as well as being a honeymoon destination. We joined many locals on the Nilgiri Rack Railway on its scheduled daily departure.
This train operates on metre gauge track and offers an enormous variety of mountain scenery as we travelled through valleys, alongside high rising tea plantations with photo and water stops along the way. Everyone wanted to take photos at these stops and it was all very colourful with many different saris.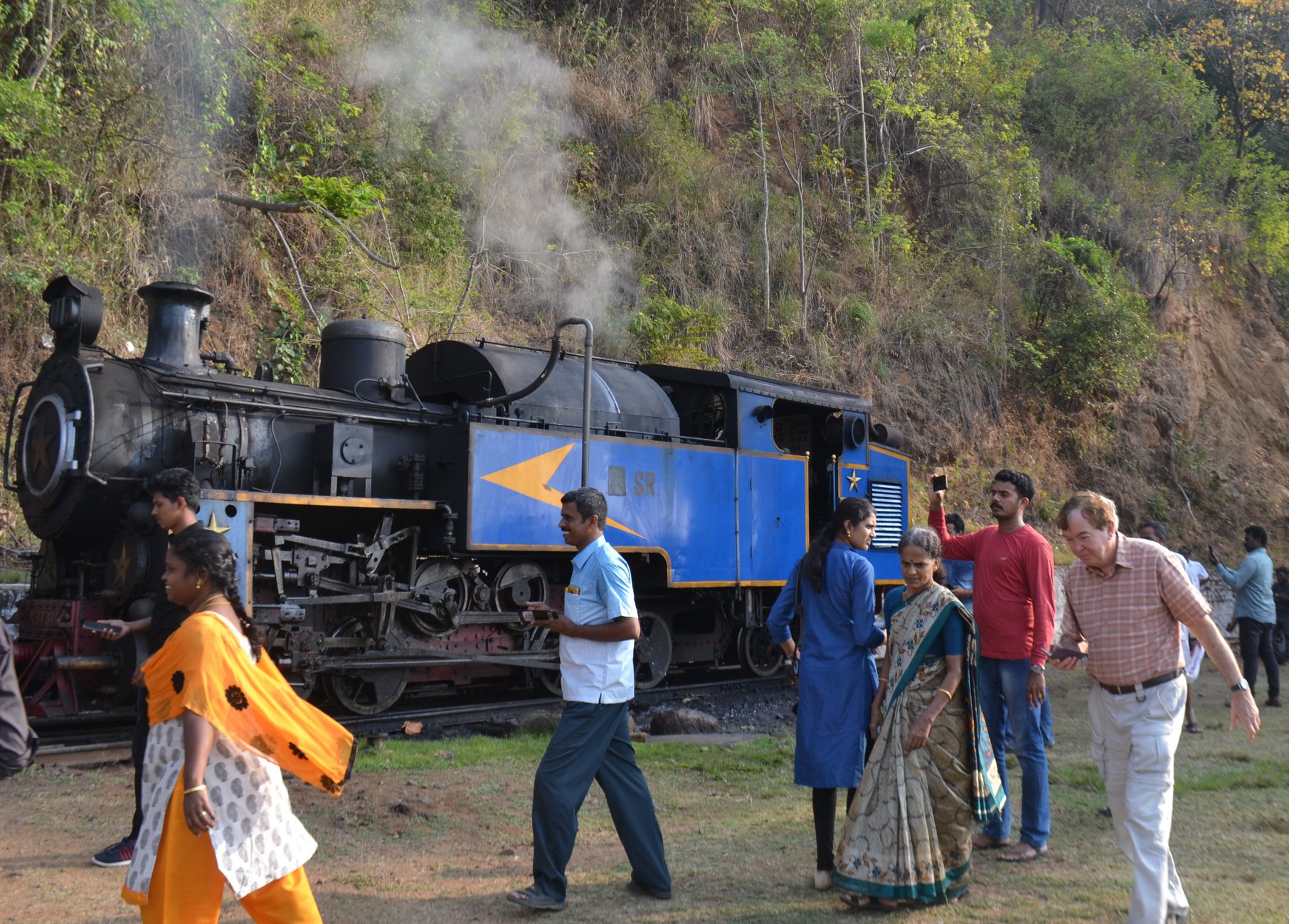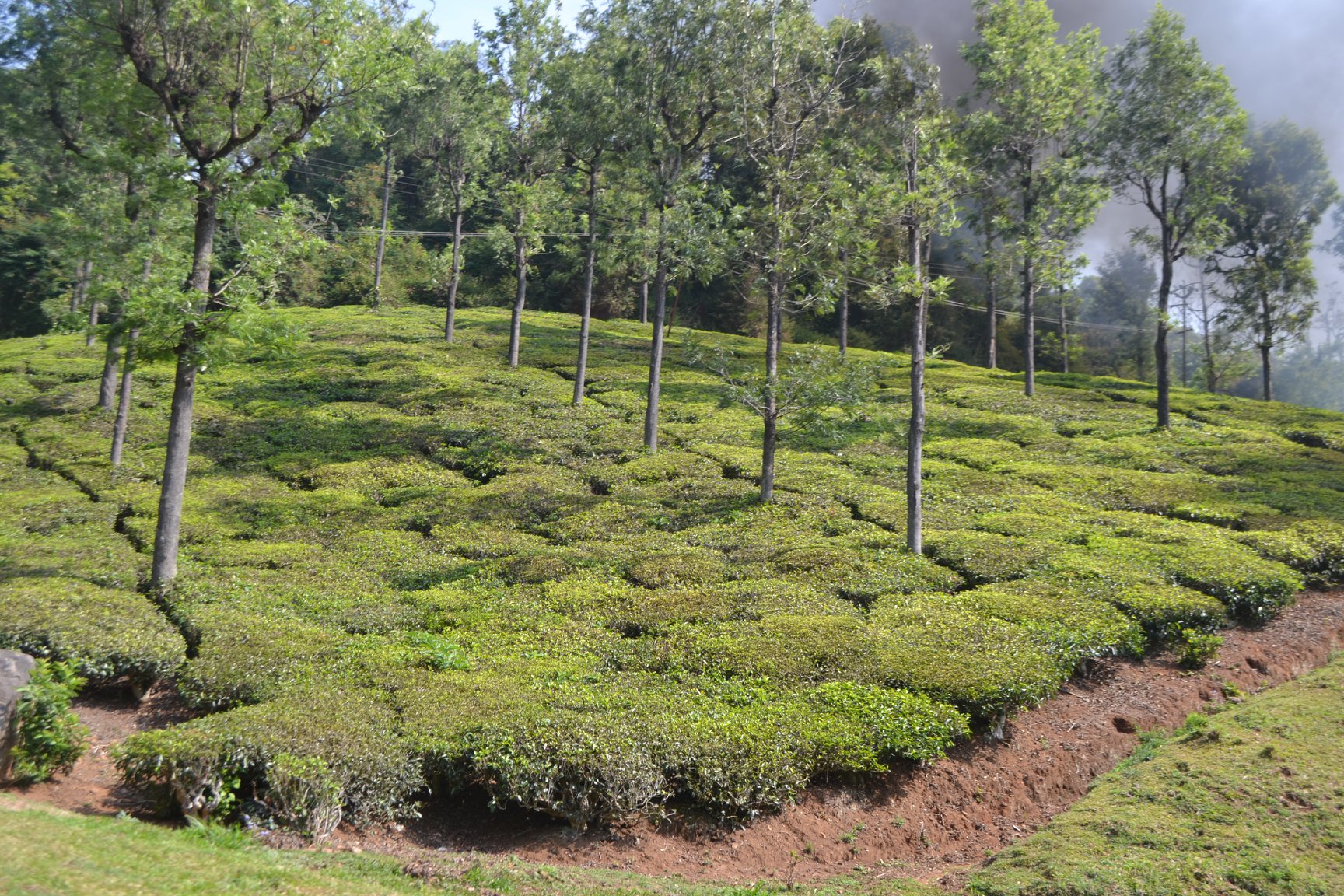 For this journey, a rack gear system is employed at various steep climbs to assist the locomotive maintain its forward progress.
We stopped at Conoor for a rest, photos and a change of the steam locomotive to a modern oil-fired diesel for the last thirty minute ride on the non-rack part of the line up to Ooty. Udhagamandalan is the Indian name of this station but over the years it has affectionately maintained its old name of Ooty. It was one of the summer holiday destinations for the British stationed in Calcutta (now Kolkata) and used today as a holiday destination for locals. It is a small town, still with British influence in the valley of the Blue Mountains offering spectacular views in all directions. A tour to a local tea factory was arranged and well received by the group.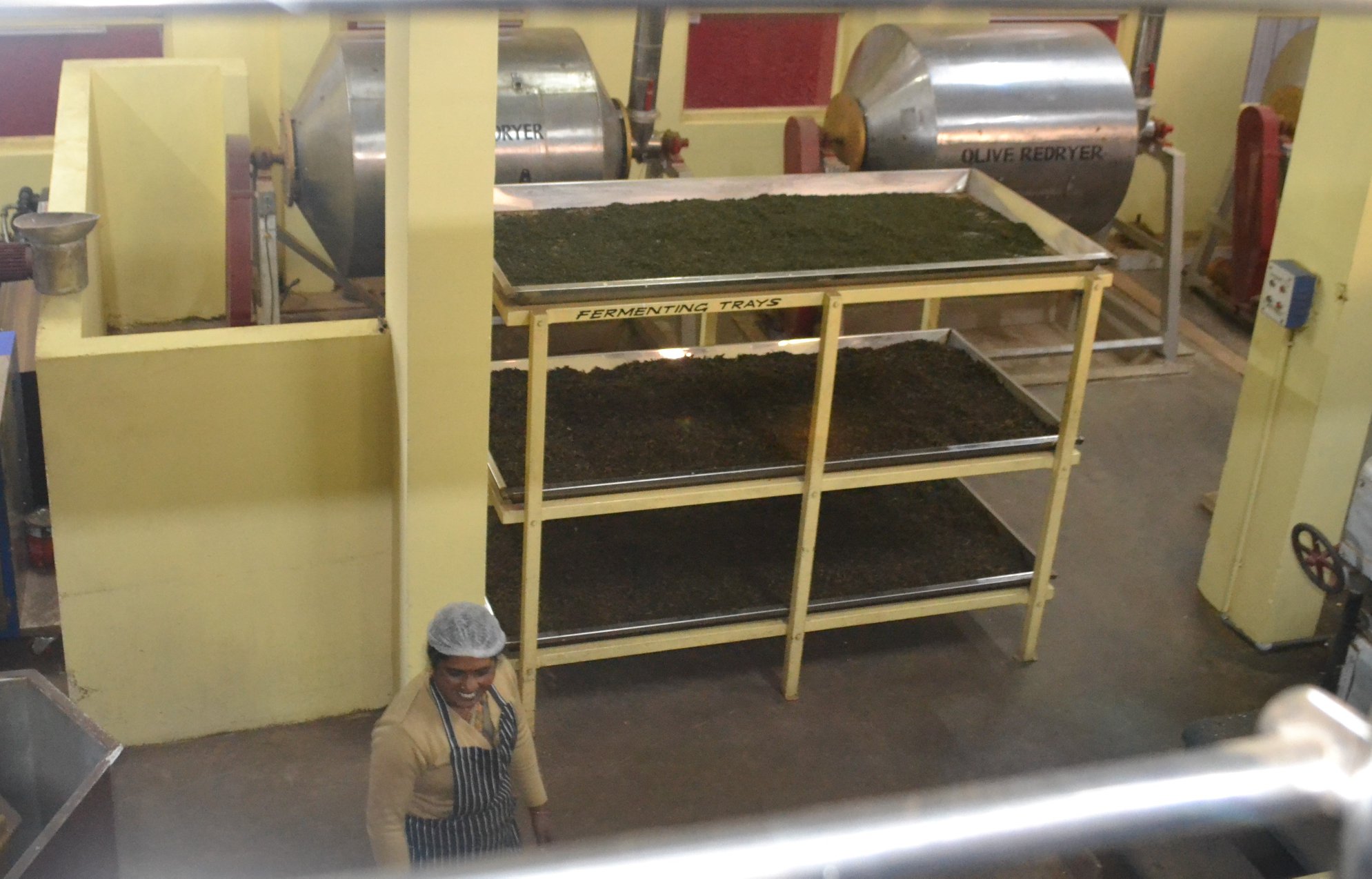 The sights of India before the rail journeys 
This holiday gave us a wonderful experience of the major tourist destinations of India and a thorough understanding of the landscape and great distances involved.
Before starting the rail journeys, we visited the Golden Temple in Amritsar, a place of pilgrimage for many Sikhs. We experienced the well-choreographed and colourful lowering of the flag/border closing ceremony on the India/Pakistan road crossing at the town of Attari-Wagah.
Delhi showed us the impressive monuments with an Indian train ride to Agra, to visit the stunningly beautiful and tranquil Taj Mahal, while the Agra Red Fort was very impressive.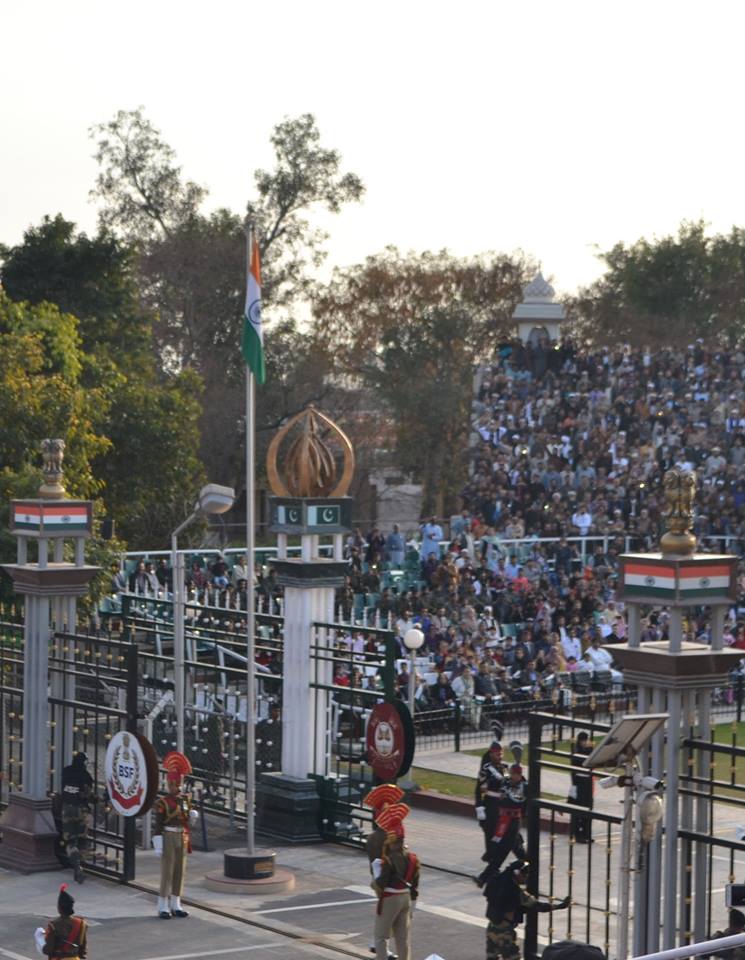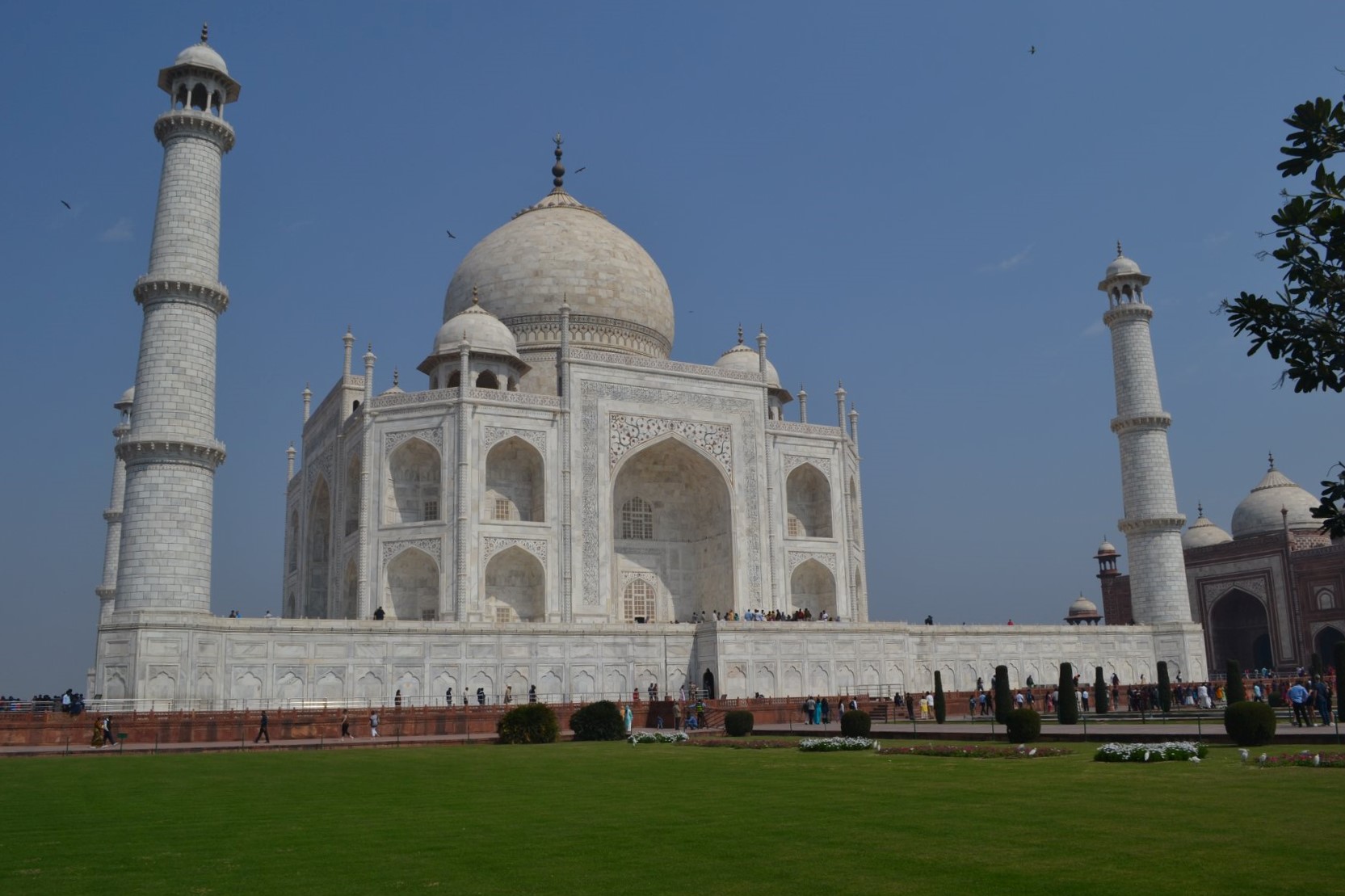 The Delhi National Railway Museum
This was a great visit and offered a glimpse into Indian, British and German manufactured rolling stock as employed on the National trains, as well as the Swiss locomotives used in the 1920's on the mountain rail system. This large exhibit had an early Swiss Crocodile and Gottard locomotives adapted to the Indian track system.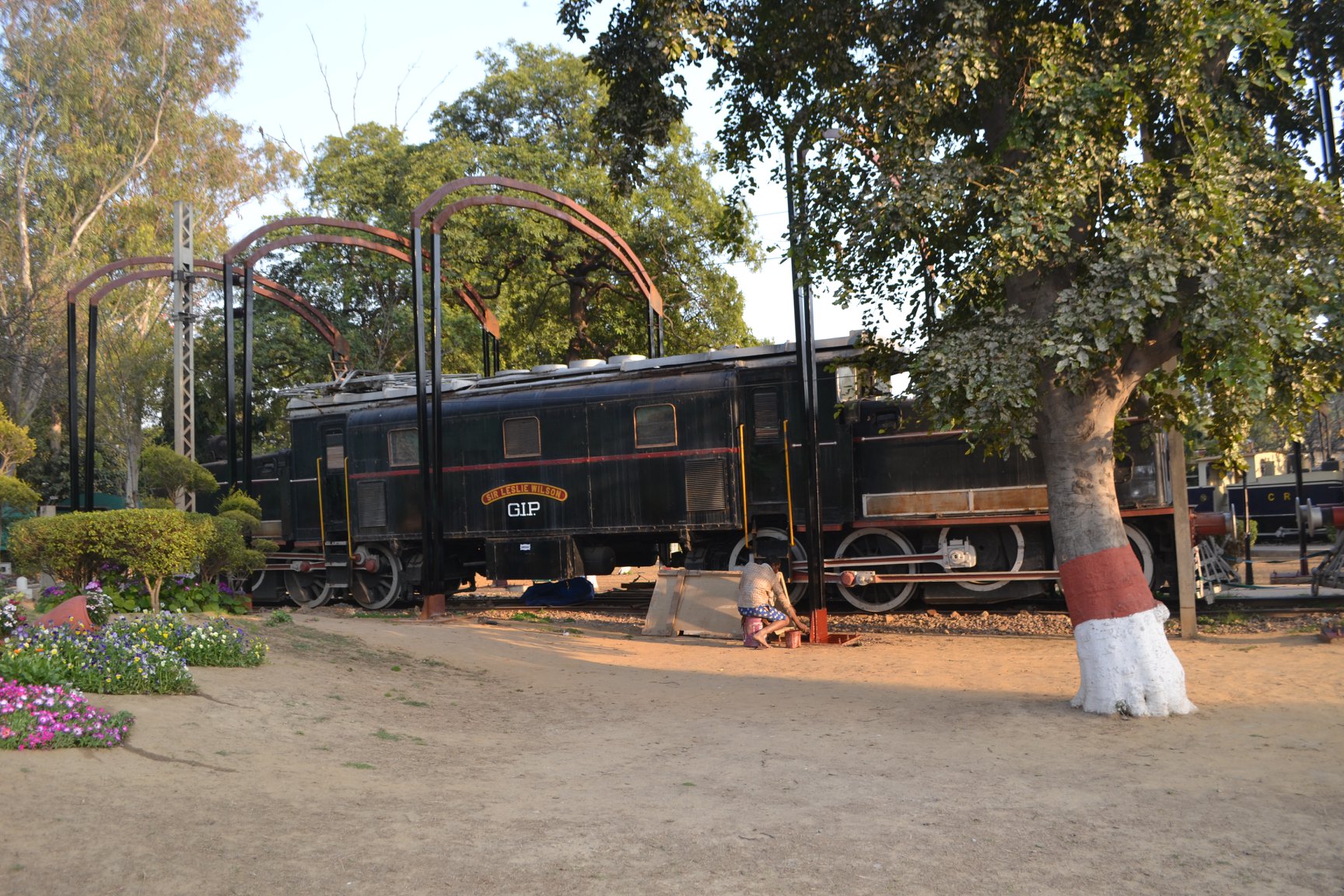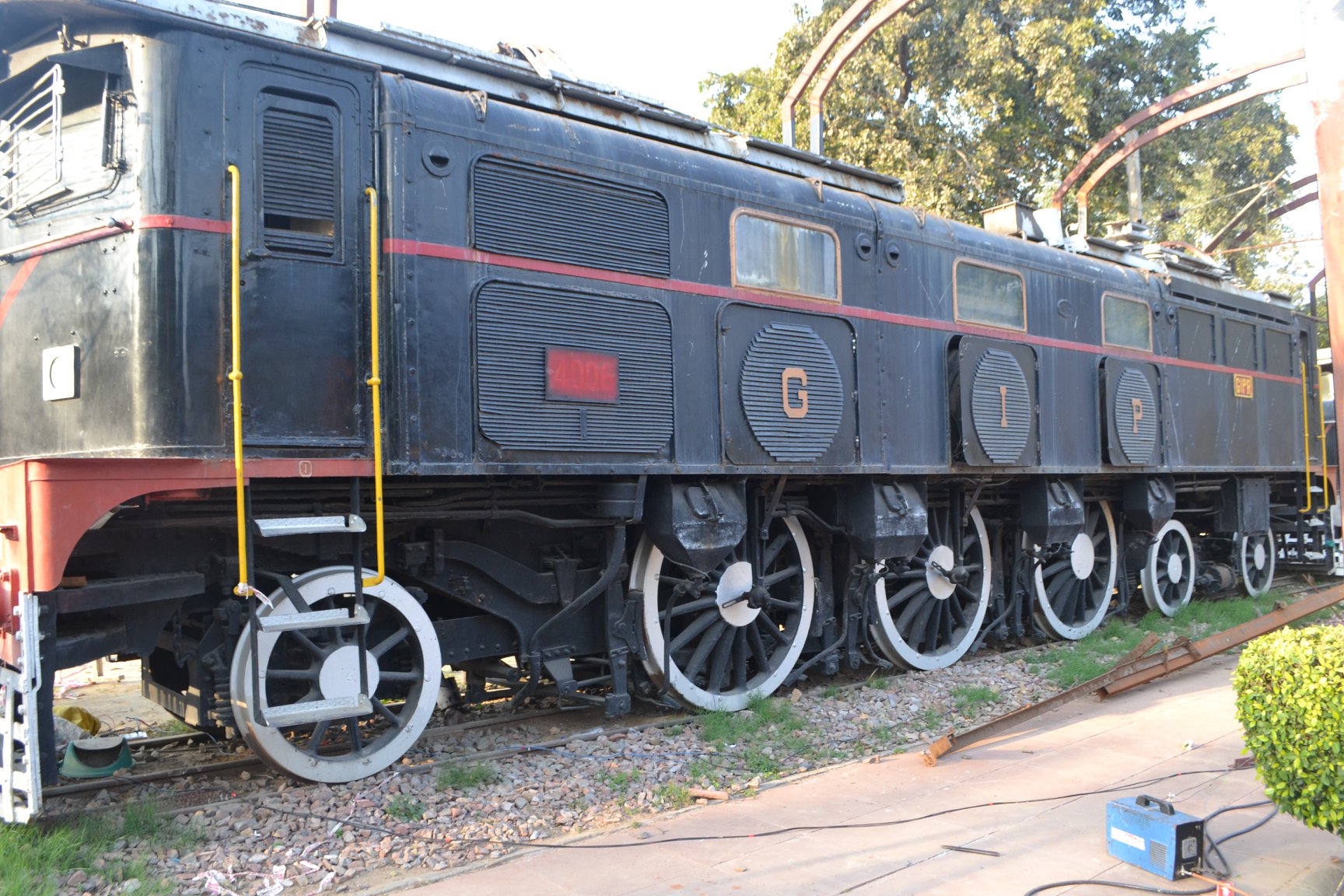 We visited the three famous hill railways and participated on a 21 hour overnight train from Delhi to Siliguri. With the group tour, our tour leader as well as local Indian guides spoke excellent English and were a source of local knowledge for all local activities.
Indian Railways
The railways of India are the second largest employer in the country with an excess of 1.5 million employees.
Nationally, Indian Railways transport over 20 million people per day, a staggering number. At no time did we see people hanging from the window bars on the outside of trains or see people riding on the carriage roof as portrayed on television, though I'm sure this does occur on some of the big city lines.
Thanks for coming along and enjoying the ride! Frank & Annie Schmidt
---
About the Author:
Frank Schmidt is a collector of American Flyer, Hornby, Marklin, some Marx, and Bing O gauge trains. He belongs to the CTTA, TCA and TCS train clubs and has published train articles in each of their periodicals.
He has recently co-authored a book "Canadian Pre-War Toy Trains – The Marketplace – 1912 -1938" with fellow enthusiast Charles Reif.
Frank says, "In our world travels, adventure holidays as we call them, we use public trains when possible to see the landscape instead of flying over it. These include riding the rails in Canada, China, India, Mongolia, Myanmar, USA, Egypt, Zimbabwe, South Africa and most of Europe. The interesting points are always the conversations with other travellers, and being aware of the different customs and cultures."
"A recommendation before starting out is to always book ahead, reserve your seat at a small extra cost and use reference information on 'The man in seat 61' at www.seat61.com' to help plan your trips."